Have you heard of Houzz.com?
It's an interior design "idea book" site that's totally brilliant and totally time-sucking. (I really, really needed another one of those.)
Every week, Houzz sends me an email packed with all the top design photos from that week. I respond by feverishly pinning them all over my Fantasy Home Pinterest board, and then getting all giddy when people repin my pins, as if I somehow deserve credit for the coolness of the original things. (??)
Anyway, this week's update randomly included some diagrams illustrating the tumultuous, up-and-down drama of the design process, which I found pretty hilarious. Not because I know anything about design—because I don't, not one single thing—but because these concepts are applicable to much more than that. These are illustrations of life.
How many of these resonate with you?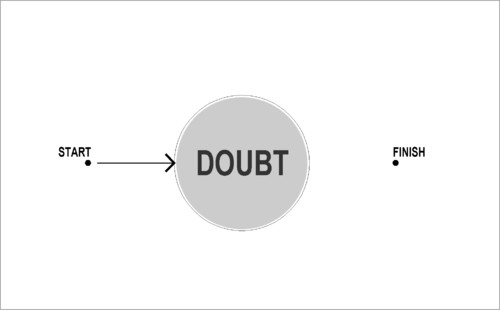 When you look at these diagrams, what comes to mind? A life goal? A personal goal? A business venture? A crazy travel idea?
What is that tiny obstacle, in relation to your goal? Was it once monumental, and only now can you recognize it as tiny?
Whatever's at the finish point for you, if you haven't reached it yet, keep going! Clearly it's important to you.
Ok, how about this one. Remember this??
And I KNOW you recognize this…
Fit Moms for Life Update
Ok. So I got lots of messages from women interested in the FM4L movement I talked about yesterday, which was VERY exciting! Some of you asked for more information, and I don't have much at this point, but I wanted to make sure to give you everything I know.
–If you're interested in becoming a FM4L trainer, you need to sign up here. (This is still a secret page—you can't navigate to it from anywhere on the FM4L site. That's how early you're getting into this thing!)
–Once you sign up, you'll get an email with details about the initial planning call, which is scheduled for early May. On the call, Dustin will talk about his vision and share details about how it will work, and then ask for input/ideas from everyone on the call.
–The email also includes ideas for what to do in the meantime, such as encouraging moms to get his free starter CD and workout DVD and sharing the idea of the movement with other women you think would make good trainers/motivators.
So that's officially all I know.
I hope you all get involved! I think it's going to be awesome. And you don't have to be a mom—I mean, Dustin isn't. :)
What's at your Finish point?